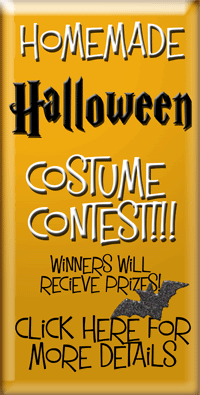 I just wanted to announce "5 Nuts in a Nutshell"'s 4th Annual Homemade Halloween Costume Contest! Can you believe that this is the 4th one we have had!? Wow, time sure does fly by!
These posts that I write for this contest get thousands of hits each year. I even see many of our costumes popping up on Pintest!! So much fun...
Anyway, I wanted to open the contest up again this year!
Here are the rules and information:
1. Email me: a picture along with a short description.
My email is: nutsinanutshell(at)gmail(dot)com
2. Remember: It has to be homemade! No cheating! And don't forget to tell me about it, sometimes the story behind the costume is BETTER than the costume! Homemade costumes include: made from scratch costumes, costumes sewn from patterns, costumes made up from old clothes, etc. The only ones not allowed are the store bought ones right off the shelves. You can have store bought items included like masks and tiaras, for example. Here is the costume I made for the boys last year (but the masks are bought):
3. The costumes can be for children or adults.
4. I will be accepting entries up through Oct 24th. This should give you time to get your costumes made if you want to enter ones from this year, (although old costumes from previous years are welcome, as long as they haven't been entered before) Then I can have the contest posted on the 25th and the winner will be announced on Halloween!
I will sponsor a couple prizes, one of which will be a gift certificate to somewhere cool like Target. Also, I will accept any gift donations if anyone wants to help out -- the more prizes we get, the more winners we can have!

Good luck and I can't wait to see what everyone comes up with this year!!
-Cat
If you want to look at some of our entries in the last years, here are some links: