I am a horrible person.
I agreed to do this review a long time ago. I mean like at the beginning of the summer. And I just haven't been able to do it!! I can't say that I forgot. Because I have thought about it every day! No, no. I haven't done it because I am ashamed at my decorating skills. I mean I really have no sense for it at all!
Fathead
, an online company that makes wall graphics contacted me a while ago and gave me the pick of what I wanted to review. I had a really hard time picking what I wanted first of all, because they had so much cool stuff!!
I mean, come on, what little boy wouldn't want this on his wall?:
Or what Army Brat wouldn't want this one?:
Or this one:
But since I am totally NOT creative, I picked the sheet of letters to make my own words: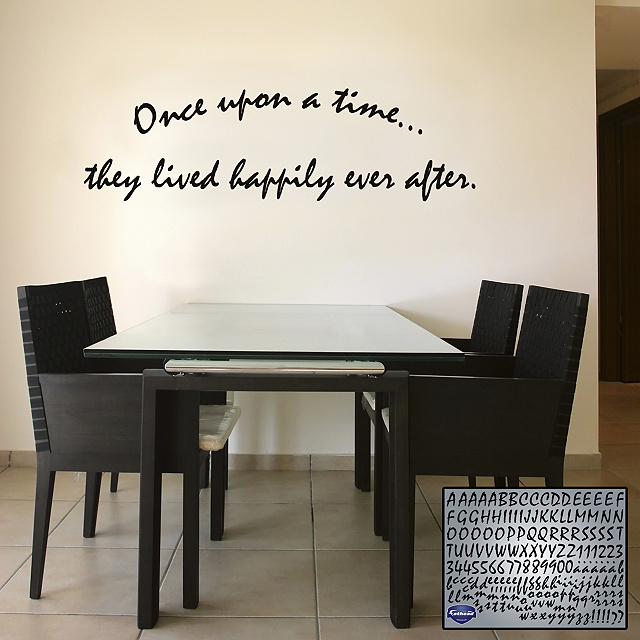 And then after months of staring at the letters, I finally decided to use them (by the way, they are reusable so you can change the saying whenever you want.) And since I couldn't come up with anything original and witty, I went something like the picture above.
If you are laughing at my pathetic decorating skills... well, I am laughing with you, I promise. This is my wall before I put some letters on. I can't even keep my pictures straight!
Yeah, the only clever thing is that I put the saying by the clock. I wanted to put "... and we live happily ever after!" Over by the family pictures, but Jake tried to peal them off, the little turd.
Aside from my flaws, I want to tell you that Fathead is an amazing company and the quality is great! I even tried to peal the letters off a couple times to see if they 1. Came off in one piece and 2. To see if they took off the paint. They did neither! Yay!
So pop on over and check them out!
Also, right now, they have a Military Sweepstakes going on. Here are the details:
The Salute to the Service Sweepstakes
is a monthly sweepstakes that is open only to active service members and members of their immediate family. Each month, five families will win a free custom Fathead, beginning now through October 31, 2012.
-Cat