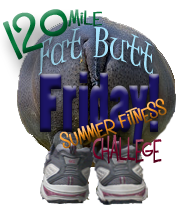 This is the first time I have turned my computer on all week. I have still be checking my emails and Facebook... but via Kindle Fire from my bed or the nest I made on the couch. I have had strep throat this weekend, and it wasn't too fun... not even a little. It seems like every weekend something prevents me from getting the updates up on time. What's up with that? Maybe I am just cursed with some serious weekend bad luck or something.
Today, I am still moping around feeling bad about myself and my stupid misfortunes when it comes to health... but tomorrow, I have high hopes of feeling MUCH better!
Okay, so this blasted post has taken me two days to write... I must be having issues.
Anyway, I will stop going on about this, and post the updates!
-Cat
PLEASE take the time to vote for this blog for the Military Family Award! Click on the link below or to the left. THANKS! Only 3 days to go!!!
Personal Weight Loss Updates
Weight after I had baby: 254
Weight before I started running a couple months ago: 231
Weight when Ben left: 220
Weight last check in: 196
Weight this morning: 194 (Woo hoo!!!!)
(Goal Weight: 155)
Here's to a happy active week!!
PS - I have decided that it is never too late to join the challenge! If you are interested, please click on the purple link at the top of the right sidebar.
Please Support our Sponsors!!
Jessica Carpenter
*******
Also while you are here....
I got nominated for top 25 Military Family Blogs again!! If you like the "Nutshell" please head on over and vote for us! You can vote once a day! You don't even need to sign up for anything. Just find my blog on the list and click the thumbs up button!
Thanks everyone for your support!