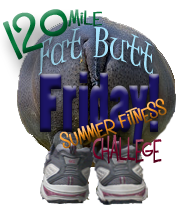 I just wanted to start off by saying that I haven't put off this post because I have been lazy, but because for some reason, blogger wouldn't let me sign into my blog yesterday! It was really frustrating, but today, I am back and ready to get this update up!
This week I reached an important milestone in my weight loss journey... I fit comfortably into my skinny pants!!! WOO HOO! I am just 2 pounds from being away from my pre-pregnancy weight, and 6 pounds away from being at my skinniest weight of my adult life at 190. I am feeling pretty pleased with myself and all the hard work that went into this summer journey.
My body is telling me, that I need to give the strict diet a little bit of a break and work on maintaining a while. Heck, I lost 25 pounds in 7 weeks, I need to give my skin and body time to adjust to this new body. So for the month of Aug, I am going to add a few things to my diet and then come Sept I am going to go full force to get the rest of the 30-40 pounds off I need to make it to my ultimate goal of 155-160.
I am pleased as punch that I made my summer goal plus some. I am even a little more then thrilled that I now weigh less than my dear husband... and more than anything, it's so nice to look in the mirror and see that old friend I thought so many times was gone for good.
It's been a pretty good week... but next week, will be so much better! Why? Because the love of my life is coming home!!! YAY!
-Cat

PLEASE take the time to vote for this blog for the Military Family Award! Click on the link below or to the left. THANKS!


Personal Weight Loss Updates
Weight after I had baby: 254
Weight before I started running a couple months ago: 231
Weight when Ben left: 220
Weight last check in: 198
Weight this morning: 196 (Woo hoo!!!!)
Here's to a happy active week!!
PS - I have decided that it is never too late to join the challenge! If you are interested, please click on the purple link at the top of the right sidebar.
Please Support our Sponsors!!
Jessica Carpenter
*******
Also while you are here....
I got nominated for top 25 Military Family Blogs again!! If you like the "Nutshell" please head on over and vote for us! You can vote once a day! You don't even need to sign up for anything. Just find my blog on the list and click the thumbs up button!
Thanks everyone for your support!