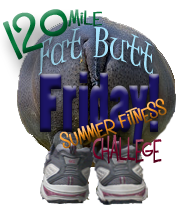 Things have been nuts today. Mostly crazy kids, cleaning house, fighting this stupid asthma because of nasty air, and other inconvenient things. But I promised I would get this update up today and that is what I am going to do!!
I wish I could post something clever or informative like I usually do, but my husband is waiting for me in the living room with a movie and treats for a sort-of date night.
So without further ado, here is the update!
Here's to a happy active week!!
PS - I have decided that it is never too late to join the challenge! If you are interested, please click on the purple link at the top of the right sidebar.
Please Support our Sponsors!!
Jessica Carpenter
*******

Also, I just want to thank everyone for their support!!!