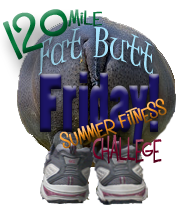 I want to start off by apologizing for this late post. Yesterday was NOT a good day in the Nutshell. If it could hit the fan, it did.
That being said, and I hope you forgive me, let's get these updates up!
This week, I took a leap of faith... in myself and my abilities. I signed up to run a 50 mile relay race with some other women. There will be 5 of us and we will each do about 10 miles. And I am really scared about it!! Nervous. Anxious. But I have been saying all summer that I was going to run some kind of longer race in the fall, and I just HAD to take the step to sign up before I chickened out.
So I have 10 weeks to prepare for this run.
I think I can do it.
Fingers crossed.
I didn't get a lot of miles in this week, it's been hard to get out with Ben gone, and to go with the kids has proved impossible and far more stressful than I feel like dealing with. BUT I have managed to get some miles in, and as soon as my
babysitter
husband is home, I will be running for longer and farther and hopefully catch my miles up!
-Cat
Personal Weight Loss Updates
Weight after I had baby: 254
Weight before I started running a couple months ago: 231
Weight when Ben left: 220
Weight last check in: 208
Weight this morning: 202 (Woo hoo!!!!)
Here's to a happy active week!!
PS - I have decided that it is never too late to join the challenge! If you are interested, please click on the purple link at the top of the right sidebar.
Please Support our Sponsors!!
Jessica Carpenter