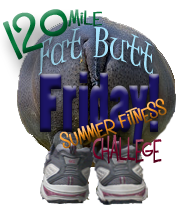 I am really sorry I didn't get this up yesterday. If you read my quick post yesterday, then you know I have been super sick. I am fighting off oncoming pneumonia... it still isn't full blown, yet, I think my running these last couple months has made my lungs stronger and that is really helping me to do deep breathing, keep myself strong, and literally fight this thing. The bad news is, I could feel the crud all up in my lungs all night making it hard to breath and I can feel it shift around when I change positions. However, the good news is that I am coughing. I know that doesn't sound like good news, but when I get pneumonia I usually don't cough, the stuff is just too thick. It isn't until I am starting to get better and it's breaking up that I start to cough, so it's a good sign for my recovery.
More good news, before I got sick, I got my one mile time down to 11 minutes! That's only 30 sec away from my first 1 mile time goal. Yay! But unfortunately, this sickness is going to set me back a while. But don't think I am going to let this get me down. As soon as I am well, I am going to be back in the gym hoofing it!!
My other good news is that I have been losing weight again! I was stuck for a while, and now I am not. Here are the updates on my weight loss:
Weight after I had baby: 254
Weight before I started running a couple months ago: 231
Weight when Ben left: 220
Weight last check in: 216
Weight this morning: 210
My goal is to be at 200 when Ben gets home in 5 weeks. I think 10 pounds is TOTALLY possible in 5 weeks! I may even get more! I guess we'll just have to see!
Just in case, you don't think 10 pounds is much, let me show you what it does to my face:
This is me before Ben left:
This is me the other day at 210:
I am feeling good about myself... now if my body would only start feeling better too!!!
Anyway, sorry this update is short, but I have to get back to bed. The humidifier is calling my name...
-Cat
Here's to a happy active week!!
PS - I have decided that it is never too late to join the challenge! If you are interested, please click on the purple link at the top of the right sidebar.
Please Support our Sponsors!!
Jessica Carpenter