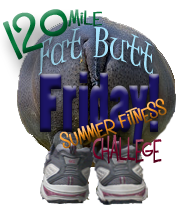 Can you believe that this month is already winding down?! So far, our challengers are doing pretty darn fantastic! I know it has been hard for me to get out with the 3 boys hovering around and The Man being gone... but thanks to some great friends, we have been doing some babysitting trades, so I am able to get our a few nights a week for an hour or so to get my miles in. I am about 2 miles behind my goal so far, but 2 miles isn't much and I will catch up next week, especially since I am getting speedier. Go team me!
If you are wondering how you are doing toward the goal, I did some math for you so you can check to see where you are verses your goal. By tomorrow night, you should be here:
If you are going for the Gold (220 miles):
If you are going for the Silver (170 miles):
If you are going for the Bronze (120 miles):
So how are you doing??
-Cat
Here's to a happy active week!!
PS - I have decided that it is never too late to join the challenge! If you are interested, please click on the purple link at the top of the right sidebar.
Please Support our Sponsors!!
Jessica Carpenter