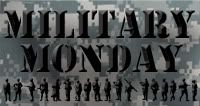 I have had lots of new military wives ask me this question: What's going to change when my husband gets home from Basic Training or an overseas deployment? Some are very concerned, and I don't blame them. I have heard people, who know jack about military people, say they come back trigger happy with a thirst for shooting everyone and everything -- what a pack of lies! And there are always the horror stories of the loved one coming back and saying they don't want to be married anymore... so it is a wonder that these new military wives have worries, they have probably heard it all too.
I don't know how much changes when a husband gets back from war, because Ben hasn't been there yet... hopefully, there are some wives out there that can answer that question. What I DO know is how things are when they come home from initial training.
The first thing that is going to change while your husband is gone, is you
. You will learn to do things on your own, you will (hopefully) learn how to make friends, pay bills, take out the trash, and how to be a military wife. If you have kids, you will learn how to take care of them on your own. You will learn you have a strength you never knew you had.
Take comfort in knowing that being a soldier's wife is one of the OLDEST "jobs" in the history of this planet. There have always been soldiers, warriors, fighters, and they have always left loved ones behind to fight for their cause. Women have been doing it for thousands of years and it's in our genes... Luckily, with technology we even have it a million times easier than our ancestors.
One of the biggest changes will be your husband.
You have to understand that in basic training, they are turning "civilians" into "soldiers", and it isn't an easy process. You husband will come home different, and I am not talking about the sexy new bod wearing ACUs or shaved head (which are the most visible changes) -- Your husband just went through some serious hard times in those last 10 weeks,
he is going to be different
! Some things that I have noticed about military men, but not all (every guy is different), is that their relationships with their "civilian" friends will change. Ben had a really hard time for a while talking to guys who had no idea what he had gone through, they didn't seem to understand him as well, some of their "jokes" weren't funny anymore, and the biggest thing that bothered Ben the MOST was the lack of "discipline". Just the fact that the students on campus butted in lines, jay-walked, lacked respect for those in authority positions, and even that a lot of them don't walk straight, drove Ben insane for about 6 months... until he re-adjusted to being home after living a soldier's life for 9 months. Even now, most of the military guys on campus hang together. They have their own "lounge" in the Military Science building so they can socialize, study, do homework, and be around each other.
I tease Ben sometimes about being married to a "civilian". He just grunts and says, "You're NOT a civilian, you're an Army wife... there's a huge difference!" (Insert eye roll) And if I every get mad at him, I like to throw this out: "You better be NICE to me! Or else I am going to run off and marry a CIVILIAN!" Take that! Ultimate threat! (Then we just laugh... breaks the ice that one...)
Not only will his personality will change a bit, BUT he will look different too:
Before Basic:
Then lastly, your marriage dynamic will be thrown off a bit. When before you both KNEW your roles in your household, responsibilities have shifted and now they will have to shift again. It can be a bit tricky. Let me give you an example:
My sister-in-law has been through a couple deployments with her husband. Once I asked her (before the Army was EVER a thought in my head) what was the hardest part about her husband coming home. She told me that is was not having the bed to herself anymore. We laughed about it, but secretly I really didn't understand. I thought that she should be happy she wasn't sleeping alone! Then it happened to me. I was lonely at nights for about the first month. Then I figured out I could really stretch out all over the place, have as many pillows as I wanted, and no one ever stole my blankets!! When Ben got home, I realized how wise and right my dear sister-in-law was!! I could give up the trash-taking-out duties in a snap, but giving up the space in my bed... that was tough... as much as I loved snuggling with my man again, it was hard to re-adjust my sleeping habits.
Sometimes, it can be hard to give some responsibilities back to the husband. But just be patient and understanding, and remember that it is hard for him too and he is probably trying his best to find his place in the home once more.
If you have young children it can be hard as well. My kids were 2 and 3 when Ben left. When he came home, Nephi was almost 3 and Sam was 4 1/2. Nephi didn't even remember him very well. When he got off the plane, they just stood there like statues not knowing what to do. The daddy they vaguely remembered looked nothing like this buff bald guy getting off the plane.
Ben had to swoop in and pick them up!
I can't end this post without saying though, that all the changes were for the best. Ben was a great guy before the Army, but he is more amazing now than ever before because of it! The military brought out the best of Ben and I wouldn't EVER take back that choice we made. I am excited to see what the future holds for us!
Don't be afraid of change! Embrace it!
-Cat
Okay, friends now it is your turn! If you want to participate, take this button and post it in your post today: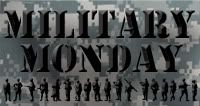 THEN write a post about what I did above, or one of these:
1. How did your loved one change while deployed or training?
or
2. What were the biggest adjustments you had to make when they came home?
If you have no idea what "Military Monday" is click here!