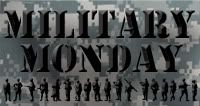 This Military Monday is going to be little bit different, only because I am going to follow up on my post last week about the Military Ball.
Saturday night was the big event for us, here with the ROTC. And I should have known that something would go wrong when everything else was going so right! I had my dress, the babysitters were all set to come, Ben was able to get off his drill with his unit a little early to make it back in time, and I finally figured out how I was going to do my hair!
Then Ben lost his bow tie.
And I was NOT happy!
In any normal event, it would have really been no big deal. But in the military if you are missing just one piece of your uniform, even a bow tie, you are considered "out of uniform" and in big trouble.
So after throwing the house upside down, me grumpy as heck, and two nervous-looking babysitters, we finally left with a prayer in our hearts that there was a formal store still open. Luckily, the restaurant that we were meeting Ben's friends at was located right above the formal shop I bought my dress at... AND it was still open. So we rushed inside and the lady that sold me the dress was there and was super excited to see us all dressed up. She sold us a bow tie, gave me hug, and off we went to dinner.
It was fun, and Ben and I saved a ton of money by checking out the menu online and choosing some less pricey dishes... everyone else was having heart-attacks when their checks came. Bummer.
Then off to the ball!
I felt pretty good. I don't think I mentioned this because I was too embarrassed before and you may have noticed I haven't posted any pictures of myself lately, since I had the baby. I had gained a ton of weight with the pregnancy, I always do, my body really likes to pack on the pounds when I am carrying an extra person inside. I gained between 50-60 pounds (sad face), BUT I have been working SUPER hard these last months to get it back off. I was NOT going to give up. In my dream world, I would have been down to my pre-pregnancy weight BEFORE this ball... but as hard as I tried, I didn't lose ALL the weight... I still have 15 more pounds to go. But I am still feeling good about what I have achieved, and I know that I will get the rest off in due time. So I was happy with myself.
Here are a few pictures Ben and I took at the ball Saturday night:
-Cat
Okay, friends now it is your turn! If you want to participate, take this button and post it in your post today: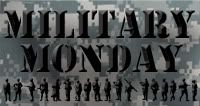 THEN write a post about one of these:
1. About the same thing I did above (Your Military ball stories and pictures -- if you missed it last week)
2. Tell us about the most "romantic" part of being a military wife.
OR
3. Your best story about "being out of uniform."
If you have no idea what "Military Monday" is click here!