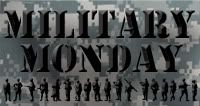 One of my favorite things about being an Army wife, is the Romance of it all. Sure, we have to be realistic, it's dangerous, bad things can happen... but at the same time, we get to live those romantic scenes most people only get to see in the movies. We get to have the joyful emotional homecomings. Most of us have even experienced the twirl, dip and kiss! And strangers aren't even annoyed when you make a scene -- they actually get disappointed if you don't put on a little show!
What woman doesn't want to find her knight in shinning armor? In my case, it's body armor, but not matter what time I am living in, a man in uniform fighting for a cause is still pretty darn hot!
However, I have to say that one of my most favorite parts of being the wife of a soldier is the Military Ball.
I don't know what it is like in other social circles and in other parts of the world, but here in Utah there aren't a whole lot of formal occasions. After high school, the next time most of us are in a formal is at our weddings. And now that I am entering my 30's, formals seem a thing of the past. Until Ben joined the Military. I felt like I was a teenager again, totally NOT acting my age! I started saving my pennies as soon as Ben enlisted.... and I was going to get a great dress for the Military Ball!
See, I never had much luck in high school when it came to dating and getting asked to prom and all that. I went to Jr. Prom... and that the was the extent of my high school formals. I always kind of regretted that -- but it wasn't like I could FORCE a guy to take me...
So I felt like this was a second chance for me.
But a year and half latter when the Military Ball came around, I was 6 months pregnant. For those of you who read me back then you may remember the fiasco of finding a dress and all that. If not, you can
read here
, and
then here
) It was super hard to find a maternity formal. So I settled for a little black number that cost me like $20... I was going to keep saving my money for the real thing when I wasn't pregnant. Here we are last year:
But this year....
The ROTC Military Ball is this coming Saturday, and guess what? I found the PERFECT dress! It is so ME! AND it's a formal that doesn't look like a prom dress, a bride's maid gown, OR a wedding dress. And you don't get to see it until then.... Mwahahaha!
This year I am not pregnant. I have lost most of my baby weight (I have a bit more to go). AND my hair is looking super awesome these days, I do have to say. (Thanks to my mom the retired hairdresser, a good diet and awesome product).
I am totally pumped to go this year. Who cares if I am like the oldest woman there (except for the cadre's wives). With my new dress, handsome man and cool hair I may just be the princess of the ball.
Now if only I can stop feeling total anxiety about leaving my baby with a babysitter for the first time!! I am determined to have a blast!
-Cat
Okay, friends now it is your turn! If you want to participate, take this button and post it in your post today:
THEN write a post about one of these:
1. About the same thing I did above (Your Military ball stories and pictures)
or
2. Tell us about the most "romantic" part of being a military wife.
If you have no idea what "Military Monday" is click here!