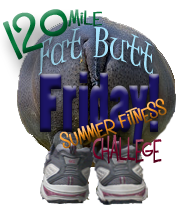 I'm a little sorry to see the end of this fun summer challenge. Even though I didn't quite make it (I was doing mostly P90X) it was still lots of fun and I really enjoyed sharing the adventure with all of you! I hope you all continue to work it out over the coming holidays! I won't be having a winter challenge like last year, but I will be doing this again NEXT summer!
I want to congratulate all the challengers that met their goal this summer! Woo Hoo! Mostly, I feel bad that I couldn't find any sponsors this year to give out some cool prizes. But I would like to do something for the challengers that met the 120 miles. Each of you will be sent a coupon code for 60% off a hat or headband on my site. (
Click here to see
).... I know you'd rather have a free one, but being a poor student's wife, we can't do that for everyone this year:( The coupon code will be good through Dec 31st, so you won't be pressured to use it now, or if you don't want to use it, you don't have to either.
As for everyone else who participated, I will be sending you a coupon code for 20% off one hat or headband. And again, I wish I could do more! I am really pleased with the results this year, you all worked so hard!
Have a great Labor Day weekend!!