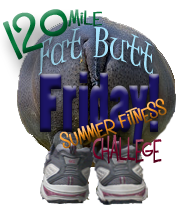 I have been having a hard time getting out and doing official miles lately. It's harder with three kids than I had thought. Mainly because my little guy isn't big enough yet to ride in the jogging stroller, and my boys want to ride their bikes when we go and they are so unpredictable that I spend the whole time yelling at them to stop and stay out of the street, that our exercises are cut short due to stress.
Most of my workouts I have to do at home AFTER the boys are in bed. And they are workouts that don't count on this challenge. BUT the good news is, that I am still getting in shape and losing weight! I have officially lost 1/2 of my pregnancy weight gain! Woo Hoo! I have been patting myself on the back all week for my hard work. I am finally starting to feel like myself again... instead of living in a fat-suit.
Once I get this pregnancy weight off, I will start posting my updates again with pictures. I don't want to count this pregnancy thing, because I don't want to take away from all my hard work the last time... AND I still have weight to lose to get to my body ideal. So for now I am just counting down to when it will REALLY start counting for me again.
Meanwhile, you all are going to think I am crazy or something. But Ben and I decided we wanted to pump up our work outs and... are you ready... we are going to do the P90X workout together. Am I scared? Heck yeah I am! Am I a quitter? NO WAY! We have been looking into different programs for a while and we think this one is the best for us to do together. Ben wants to up his Army PT score and look more like a personal trainer (I was accused of photo-shopping his head on a different body for
those pictures I took for his website
-- totally offensive by-the-way! I don't get bothered easy, but when my integrity is questioned, I take that very personally). Ben wants to look more the part. I on the other hand know those last 30-40 pounds I want to lose are going to be very tricky to get off and I think upping my workout and going hard core is just the thing to get the rest off and help with this stubborn mommy belly. We are starting next week when it comes in the mail... don't worry, you are all going to get updates on my self-induced-butt-kicking. So wish me luck!