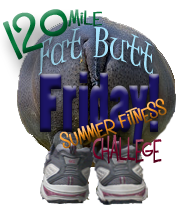 Since last week, I have had quite a few people signed up for challenge, woo hoo! But I would LOVE to have more! So email me! We have some great stuff going on this summer and would love to have everyone involved. If you have any questions, feel free to ask in a comment here or in an email. My email is:
nutsinanutshell(At)gmail(dot)com
Also SPONSORS are needed. If you or anyone you know may be interested in some free advertisement or would just like to donate some money or anything to help out the challenge, please contact me! It doesn't take a lot to be a sponsor and I get enough traffic here that it will be worth participating in the challenge. I have a few sponsors now, including myself (my hats shop) and my husband (some free personal training) and I have some on the burner.... so we'll see.
For more information about the challenge, click on the link on the right side.
(Para los que hablan espanol, por favor email a mi para reciber las regulas y el oltro information del reto.)
Meanwhile...
I have to share. Confession: I have been so ashamed of myself for getting out of shape during the last part of the pregnancy. I know I really couldn't do to much, my sciatica was HORRID! But I wish I could have. When the doctor gave me the okay to exercise again, I was totally pumped to head out to the gym and get back in shape.
But I was a little devastated to notice that my gym clothes were too tight, and I looked like a stuffed sausage in my reflection that stared back at me in the gym mirrors. I felt like a failure. And it didn't get any better when I popped on the treadmill and could barely run half a mile without stopping to walk.
What a bummer!
I was too sad to go back to the gym. I just felt like such a loser. So what if I just had a baby... I should have tried harder to keep everything that I had worked so hard for!
So for about a week, I sulked. I didn't want to do any exercise. I just wanted to wallow in my self-pity.
Then Ben told me to suck it up.
Sometimes we really need someone we love to tell us to pull our head out and get on with it! So I did. I was so ticked at him for being insensitive to my woes that I was going to show him! I dusted off my running shoes, grabbed my MP3 player, and set out to run a mile no matter how much it hurt, how hard it was, and I was going to do it if it killed me! Wouldn't HE feel bad if he found me passed out on the side of the road!
So I went out. I pushed myself harder than ever before.
And guess what?
I didn't run a mile... because I ran TWO!! Woo Hoo! I pushed myself, and I knew I had it in me... it was there somewhere, I just needed the motivation (and some good music) to find that strength within me so I could do it. Thanks to my dear husband who knows when I need a good butt kicking, I am finally starting to feel more like myself.
Now only if I could get rid of this spare tire I earned for having a baby... I guess that's what this challenge is going to do for me!
If I can do it, so can you! Can't wait to start the 120!