Have you ever seen a sadder face?? Sam was devastated yesterday, when he came home from school and the Christmas Tree was gone. For some reason, he just couldn't comprehend the fact that Christmas was over, done with, GONE. I tried to explain to him that it will come again, but for now, it's time to put the Christmas stuff away.
He was having none of that.
The rest of the evening was a joy as Sam went around protesting the end of his favorite time of the year. Life is so hard when you're a kid!
It's all about eating, playing, sleeping, then playing some more! I wish I had their problems...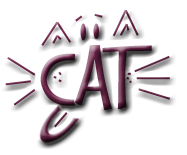 By the way! You may have noticed my new addition to the right sidebar. I finally got an
Etsy shop set up to sell my stuff
. I don't how well I will do... maybe not at all. But the way I look at it, is that I will never know unless I give it try! Right? I also have a facebook page for them too, you can
check out here
. The only thing that makes me sad, is that the pictures really don't do them justice! They are so much cuter in real life! Oh, well.