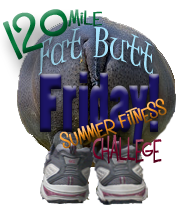 About a month ago, I asked my 120 mile summer fitness challengers if they thought another challenge for the fall would be a good idea. I didn't want to push anyone, but I got lots of great feedback from challengers and "wannabe" challengers for the next time, that I thought, "oh, what the heck!"
I don't know about you, but I don't want to lose what I gained in my exercise program over the summer come this fall and the holidays only to be all bent out of shape come summer! Do you?!
I didn't think so!
So after lots of thought, I came up with a new challenge! It had to be different because of the weather change, I wanted to involve even people who can't walk or run but could do other exercises. So I centered this around any kind of exercise and healthy choices you choice to make. So I want to introduce....
Now, before you freak out, notice it doesn't say "miles"! What does "500" mean then? Well, it means
points
, of course!
This is how it works:
The program will last 4 months, Sept 1st - Dec 31st. And in those 4 months you will earn points by what you do to work out and, get this, eat right! Woo Hoo, finally adding some eating habits into the program! So for example, say you ran 5 miles on the treadmill at the gym, you get a point a mile so that's 5 points right there. How about if you drank 64 oz (8 8oz glasses) of water a day for 7 days, that's 5 points... and so on. In the next few days (or even next week), I will be posting a list of ways to earn points and the goal is to earn 500 by the new year! Can you do it? I know I am going to try!
There will be lots of ways to earn points. You can earn points doing yoga, Wii workouts, and even counting and watching you calories. You can even earn points by giving up your favorite naughty foods! There is something for everyone no matter what you situation is, and everyone can get fit and stay fit through those pesky holidays and on to the new year!
I am really, really, REALLY excited about this new challenge because I can't wait to hop on my bike and do the Wii and have it count!
I will also post links to printable point lists on my sidebar along with updated calendars as well (I have A LOT of changes I want to make for the calendars this time... like the week starting on Friday and ended on Thursday to make it easier to count your points and be reminded to report in).
For the summer challenge we had about 50 active participants, I would LOVE to double it for this one! So spread the word!
I will be taking challengers from now to the second week of Sept.
To enter the challenge, please email me at nutsinanutshell(at)gmail(dot)com and provide the following:
1. Name
2. Name you want displayed in the updates (can be fictional)
3. Your email
4. Your blog address
ONLY
if you want it linked to your updates (if you don't have one or it's private, then leave this blank)
And you can even snag this button for your blog if you want:
For updates on everything, please become a fan of "Cat's Challenges" on Facebook (the link is to right). And it isn't required to become a fan of "4 Nuts in a Nutshell" but it would be nice (the more "friends" I get the more likely we are to get great giveaways, sponsors and prizes -- so think about it) Also, once again I am looking for sponsors, so if you want to be a sponsor, let me know. OR if you know anyone that might want some advertisement here that would like to participate, have them drop me a note.
That's it for now! I will be posting updates later this month!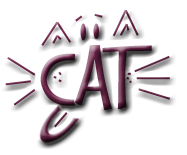 As for our current challenge, I am just THRILLED about how many of you are making it to the 120, over it, or keeping up the pace to make it by the end of the month!! Yay!! Great job everyone, and remember that you should be to the 100 mile point by the 15th. Just a note: The final updates will have to be turned in by the 31st so we can have prizes and stuff announced on Sept 1st (which is a Tues) -- just keep that in mind.
Anyway...
Here are the updates:
And for those of you who have finished, go ahead and grab this for your blog: