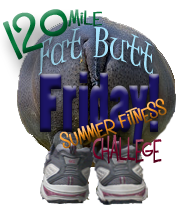 We're almost there, challengers, the end is near! For some of us, we have already reached the 120 and am still reaching for a little more -- for the rest of us we are either almost there or putting in a little more effort to get it done. I am really proud of all our challengers who worked so hard to get this done! I just hope that you took more away from the experience than you put into it, if you know what I mean!
As for myself, I am really glad I "talked" my husband into doing it with me. It really helped him to keep in shape during the summer and helped him build up some endurance that he didn't have before. But I think my favorite part about it was the time we spent together. Talking and laughing. It was great!
I don't have a whole lot of updates to give to you today. Just a quick reminder to keep in mind the next challenge. I know a lot of you are thinking you may not have time with the holidays and school starting and everything else in between. I can't promise it will be easy, in fact, I guarantee it will be a "challenge", but I KNOW it will be worth it! I mean seriously, how many of us start out the new year making weight loss and fitness resolutions? How many of us take on the next year with extra pounds of weight and regret? I know I do! Well, this year, I want to start 2011 with no regrets and feeling great!! Now, who's going to join me??
Oh, and I have a prize to give away today!
The winner of the $80 gift code to any of the 200+ CSN sites is:
Congrats!!!! Just so you know, everyone got entered who has reached their 100 mark at least this week. Ana hit her 120 last week, so congrats on that too! So, Ana, send me an email and I will get the code to you!
We only have a few more weeks of reporting and then it's all over! Sad to see it end but excited to see all the hard work! There will be more prizes at the end, and I wish I could give EVERYONE one, but I can't :( Hopefully, we can pick up some more sponsors next time!
Also a HUGE high five to our 5 K runners this week! Here's what they shared with me:
Milly reports:
Just letting you know I ran my 5K on Saturday and reached my goal of running the whole way. I finished in 38:15 and felt so good when it was all over. I honestly cannot wait for my next race. I have always enjoyed running but this go around I truly feel like I LOVE running. Thanks for this great challenge and the motivation it has given me to get back into running.
P.S. I now know what you mean by people playing tortoise and hare with you. I had a couple doing that for the first half of the race. It felt so good when I saw them cross the finish line 7 minutes after I did. Just goes to show slow and steady wins the race!
Shan B told me:
Saturday the 14th I signed up for a 5k last minute & I JOGGED the whole 3.1 miles!!! It's been a goal of mine to jog a whole 5k from start to finish & I finally did it!!!!!! Funny thing is I thought my time would be a little bit better BUT I don't care because I accomplished one of my goals & I'm so HaPpY about it.
And wish Marci good luck with her half marathon:
Yay! I finally hit 120 miles!
This week has been tough, and I am totally feeling it. I only have one more month of training before my half marathon, and with two work outs most days, I am getting tired. But boy it feels good! I am really noticing how good or bad food effects my workouts. The bad effects of bad food has been a great motivator to eat healthy. Half marathon, here I come!
Have a great week everyone!! I hope to hear from many of you... *hint hint* signing up for the new challenge!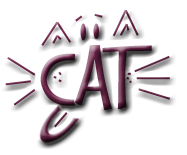 And for those of you who have finished, go ahead and grab this for your blog: