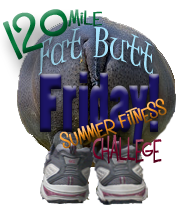 What a crazy week this has been!
I guess things always get a bit out of control when a big holiday rolls around. Many of my challengers update emails this week confirmed that! "Had a family reunion this week... didn't get many miles in..." or "We were traveling around, and didn't get much in..." and it seems like at least 5 of them are moving, and moving can DRAIN every last bit of energy!
But all in all, it was still a great week!
I have some fun news! Our little Fat Butt Friday Challenge here has caught some attention! The housing here at the college we attend and the someone in the dietitian department wants to help out and be a part of what we have going here! I don't know all the details yet, but I couldn't be more thrilled to get more involved!
We had such an AWESOME turn out with this 120 mile Summer Fitness Challenge, and I have heard from lots of other people who wished they had known or joined in time, that I feel inspired, so to speak, to open up a new kind of fitness challenge for the Fall/Winter months. I threw the idea out in an email to my challengers to "test the waters" and got a HUGE resounding YES!
So, naturally, I am totally pumped!
Details to come at a later time of course, and it would be still be a fitness challenge, but geared more towards things we can also do in the house come winter and colder weather. What do you think?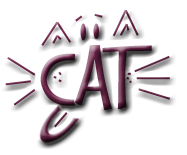 BUT the biggest success stories are coming from my challengers, let me share a couple!
Beckee writes:
"Well, it has been a tough week at casa de Beckee, but due to the lack of car I was able to walk a lot today-in fact I walked with all 4 of my kids to go pick up my van when it was fixed. It turned out to be about a 4 mile walk but with the wrong turns and the "short cuts" I tried, I ended up getting an extra mile in there (yep 5 miles with 4 kids, a stroller, and 2 car seats...).

I weighed myself for the first time in 3 months yesterday (in the evening after a big meal) and was happy to see I had lost a lot of weight over the past 3 months. When I used to weigh myself everyday, I always did it in the morning, so this morning I weighed myself and I have lost a grand total of about 12 pounds in the past 3 months!!!

When I had my 4th child 2 years ago, I was about 190 pounds at the end of that pregnancy. I lost some of that weight right away after I had her, but then worked really hard to get back down to 175. When I finally hit the 160 mark about 6 months ago, I was stuck. I was working out and eating well, but that weight stayed there forever, so I stopped weighing myself and just kept trying to get in better shape.

This challenge came up and it has made me get up and walk even when I do not want to (since I have to report back to you). I am glad I have been up and moving more with some sense of accountability. I am happy to be able to report that I am now down to 148 pounds and I might actually get to my goal of 130 at this rate...

So, to give my report, I walked 11 miles this week (yes 5 were today-it was a slow week before...) and my grand total is now 51 miles."
Marci reports:
"Things went much better this week, even though we had such awful hot weather. I was able to get a 5 mile run in on Saturday, in my Vibrams, and sustained a 8 minute mile the entire time. That is huge for me. I had to jump up and down and scream when I finished. I got a few strange looks from others on the trail. Then I walked at 10:00 at night the other times. It was way too hot to run, even at night. Can you believe it was still 90 degrees here in DC at 10:00 at night!? Ridiculous. Hopefully things will cool down over the next few weeks. I am scheduled to run 6 miles this Saturday. I am praying it will be cool enough. The good news is that I have had company, which means I can get my runs and walks in while someone watches all 4 kids!
"
Ahhhhh.... the sweet feeling of success!!! Congrats to all of you who are doing things you never thought you could do! And Marci, you are not alone, I have done public dances of joys -- sometimes even with tears-- many times... sometimes things are worth celebrating even if you are the only one jumping up and down in the street!
Hope you all have a great week!
AND a huge apology to all of you and especially my sponsors for not having my buttons working properly the last couple weeks. I don't know what happened, but hopefully I have that problem fixed!!
This Challenge was brought to you by:
And a special thanks to sponsors

Kristen

& my dear mum,

Barbara

!!
Please support our sponsors!!!!!