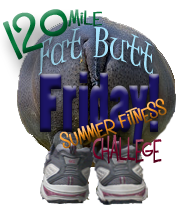 Friday is finally here! (jump up and click heels) And "Fat Butt Fridays" are some of my favorite days of the week! Why? Well, duh, you know why! When I was losing weight, I looked forward to all my readers positive support and feed back, it really kept me going. And now, it's all about you, you, and YOU! I LOVE to get your emails about your walking adventures and how much fun you are having... well, fun most of the time. I love seeing your miles climb towards that 120 every week, and I love the inspiration that my challengers give me. I feel a little selfish hoarding all these wonderful updates every week. I try to share a few, but I want to share them all!!
However, this week, my emails were a little different. There seemed to be a common theme in them. Questions. Many of my readers and challengers had questions for me. So I would like to answer a couple of them for my "Fat Butt Friday" post today.
Q:
How do you find time to work out, especially when your husband is gone so much and you have the kids?
A:
When my husband was gone for those 9 months of training, I bought a jogging stroller that converts to a bike trailer. You have probably seen pictures of me with it. To refresh your memory:
Yes, it's true that it is falling apart a little. But this little puppy has been with us for a year through thick and thin and rain and snow and ice! And we are rather attached to it, me and the boys. When we wake up in the morning, sometimes I don't even dress the boys, just pop them in the stroller with a Pop Tart and off we go! Sometimes we go later in the afternoon, and sometimes at night (with Ben now). We LOVE family walks in the evening. The boys actually ask to wear their jammies and have a night-time treat and we go for our walk and then after they go right to bed.
Another of my mottoes is: If you can walk there, walk there! The boys and I walk to take Ben his lunch everyday. It's 1.5 miles there and back. Sometimes, I let them ride their bikes while I walk -- this is a great idea for those of you who have older kids who don't fit in a stroller anymore.
Also, when I was playing single mom, I made a deal with a couple friends of mine to watch my kids one night every week after the boys were in bed so I could slip off to the gym. This was great fun!
We love to go on walks, and we play "I Spy" games and the boys love to find shapes or colors everywhere. Sometimes when I need a little me time, I will listen to my MP3 player (music or a book on tape) and the boys usually just play with toys or munch on snacks.
There is always a bit of time somewhere in the day. (Vacations, however, I admit, are a bit tricky!) But you just need to take the time to look at your day and see what you can cut out (like computer and TV time) and where you can fit in some extra exercise.
Anyway, that's what I do. What do you do to find time to workout??
Q:
What are the specifics of your diet? How tall are you? And can we see more before and after pictures?
A:
I got a couple of these email questions this week from newer readers of "4 Nuts in a Nutshell." So I am going to post my links to these answers for you to look back in the achieves and read or reread.
First off, you can click on the "Fat Butt Friday" post-it up there under the header and see the whole achieve of "Fat Butt Fridays"... but there are a whole year of them. So to make it easier on you, here are some of the highlights:
Cat's eating and weight loss tips:
Here
.
Here
.
Here
.
Here
.
And Here!
Cat's before and after pictures:
Here
.
Here
.
And Here!
(that last link also talks a bit about my story and my life long struggle with obesity)
And Just in case you don't want to click on the above links, here are few more new ones never before posted on here:
This was me one year ago on July 24th:
This was me last Sunday with my curls:
Oh, and I am 5'5.5 :)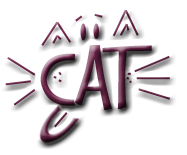 Now, the updates you have all been waiting for...
First I want to congratulate all my challengers who met the 1/3 mark of 40 miles this month!! Woo Hoo!! Can you believe the first month is already over! Only 80 miles left to go for the challenge.
To celebrate this "mile"stone, let's have a few giveaways! (

Note: All of the participants that made the 40 mile point were put in the drawing, and I used random.org to pick the winners

)
A $10 gift certificate to "Sign Baby, Sign", donated by our wonderful sponsor, Amanda at:
Goes to...
Marisa!!!
***
A copy of Cat's Favorite Wii workout: Gold's Gym Cardio Workout, sponsored by "Fat Butt Friday" goes to...
Paula!!!!
***
And last but not least...
The CSN $80 gift certificate goes to...
Andrea!!!!
A HUGE congrats to our winners... ALL of our winners! That includes all my challengers who made the 40 mile mark this month! You may not have gotten a prize from me, but I think that knowing what you have done and accomplished is a treat in itself, don't you?
(Winners: please email me asap with your shipping info so I can get your prizes to you!)
The updates:
Also, I just wanted to make note a few things:
1. A lot of you almost made it to 40 miles, so I KNOW you can catch up for next month's goal of 80 by the 31st of July!!
2. If you will note, I found another typo on my July calendar. When I originally made it, it had 31 days, but then I added the words about the reaching 80 miles and it cut it off and I didn't notice. Sorry, about that! Just pencil in a 31 somewhere on there.
This challenge was brought to you by...