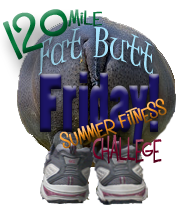 I have been putting off posting this today because I didn't seem to get very many updates last night. So I thought I would give my challengers a little more time to report in... seemed to work, I got a bunch of reports this afternoon!
Can you believe that month #2 is over! And most everyone did SO well! To keep on scedule, our challengers should have hit that 80 mile mark this week. I can't believe how many have, are around it, have surpassed it, or even reached their 120 goals already! Woo Hoo! Many congrats to those who have!
A note to those who have reached the 120 already: Do you think you can reach 150 now? Or even 200? By the end of August... we'll see... that would be awesome!
As for the rest of us, we are well on our ways to met our goals. To those who are a little behind, DON'T YOU DARE GIVE UP! Keep going, we're all rooting for you!
Now some words from our challengers:
Shan B reports:
I have to say that I was feeling a little discouraged last week with not so many miles but I decided I just needed to keep pushing forward & that I still have a whole month left. I jumped back into my couch to 5k program on week 6 this last week & I have to say that I was able to jog for 25 minutes straight on 2 separate workouts. (actually 1 day it was over 30 mins but I wasn't keeping track when my program ended). I have done 5k's for the past 3 years & I've been wanting to jog the whole thing. Well, now I know I can do it!!! I can't wait til I can sign up for one & jog the whole way!!! I can't wait to see what this next week holds for me!! Thanks so much for this challenge. I'm feeling great...now if I could only get some more weight to drop off.....:)
Apis Melliflora shares:
One of the things I absolutely love about walking is seeing the progress on the various construction, painting, landscaping projects that are unfolding before my very eyes. I keep thinking those projects are a lot like the project of "me.": every day progress may seem small, sometimes even undetectable to the naked eye, but by the end of the week and by the end of the month, the transformation is amazing. I do believe those houses and yards are cheering me on.
Many of our challengers, including me, have been vacationing this last week -- making it a little hard to get in miles... I even didn't get as many as I would have liked. However, it sounds like everyone had a blast anyway! Have a great weekend!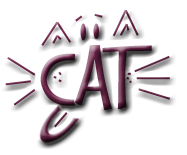 This Challenge was brought to you by:
And a special thanks to sponsors

Kristen

& my dear mum,

Barbara

!!
Please support our sponsors!!!!!