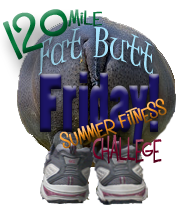 Yesterday marked the big half-way mark for the challenge! Woo Hoo! Can you believe you made it this far? This summer is just whipping right by... sort of... I think I am ready for Sam to head back to Pre-School, though, if you know what I mean.
Well, our challengers should be at the 60 mile mark right now to be on time to finish the challenge by the end of August. As you can see though, there are some a little behind, and even some a little ahead. But it's all good, just as long as we are trying to get out and work our bodies a little more, and having fun doing it!
There are a few announcements to make this week:
1. One of our challengers,
Kristin
actually made her 120 mile goal this week!!!
Go Kristin!
She really pushed herself to get this goal done, before she needed to take some personal time off. For being such a great sport and working it hard, AND including her family in it. Here's a little prize for Kristin for finishing at the 1/2 way point.
$10 Gift Certificate to:
(One of our awesome sponsors! Thanks Amanda!)
2. You may have noticed that I started a page on Facebook yesterday called "Cat's Challenges"... I am still pretty Facebook challenged so it took me a while to figure out how to do it, and even now I am not sure how I did!
I wanted to have a place for all the challengers, followers, sponsors, friends, etc could go to exchange ideas, share pictures, tell stories, talk about goals and challenges, and uplift and support one another. Anyone can "Like" it and be a fan.
I called it "Cat's Challenges" because this is only the first of what I hope are many fun and great ones to come! Next month I will introduce the Fall challenge that will last 4 months until the end of the year. All this will all be posted on the Cat's Challenges" Facebook page as well. You can join in the fun by clicking on the link there on the ride side of my blog.
Now some words from our challengers!
Kristin our finisher reported:
Okay, I am reporting my miles. This week I went 27.2 for a total of 122.1. I had to do extra this week to make up for my slacking last week. My husband even went 6 miles with me on Saturday to make sure I could finish in time. It was great to get him involved. Even my kids have wanted to walk. One day I took my daughter and did the Shoreline trail. On another day my other daughter got up and went a mile with me at 7:30 am. She was determined to go (I had previously done 5 miles that morning by myself). For someone who hasn't run in years because of some medical problems- I have taken charge of my health this year and found the answers to years of difficulty. Your challenge was the extra push I needed to make this happen. Thanks so much for your newsletters and your encouragement. I will take some "personal" time off for a bit and then let you know my miles as I work back into them if you want. I think I will throw myself a little party now (or at least do the happy dance)!!!
Crew Girl says:
It has been so great for me to have this challenge to keep me motivated! It was my baby's first birthday on Saturday- and on that day I completed the sprint triathlon I set out to do!! It was so much fun and so rewarding to accomplish something I've wanted to do for quite some time, it's incredible that a year after having my third baby I was able to swim, bike and run- and even beat my husband(by about 2 minutes) who did the race with me! I realized that I accomplished it by being persistent- having the goal of getting in miles each week in order to reach the 120 miles this summer has certainly been a great motivator- and I am grateful for the community of fellow mile people to read about and stay encouraged with!! I think it is safe to say that I am addicted! I will certainly be interested in participating in the challenges to come. Thanks for doing this.
Krystal reports:
Well I started kick-boxing last week and it kicked my booty!!! I literally woke up Friday morning (the second day of kickboxing) and thought to myself "I don't even want to move today!" But I did...and of course I felt better...better knowing I got up and did something...and better because I knew I didn't want to report that I didn't get miles in!!! LOL!!! I can't even remember how I came across your blog...but I am glad I did...because I have made a new friend on the web...and that friend has helped me realize that I can do something that I never thought I could do....walk over a mile in one week lol!! So thank you!!!! Thank you for being an inspiration!! Thank you for being support!!! And thank you for always putting a smile on my face as I read your posts!!! This week I also mapped out a couple of new routes because I was getting board with my other walks...and I enjoyed myself a lot more...a little change on scenery did me some good...and Kayleigh even took a nap...praise the Lord!!! Naps are far and few between these days, and if jogging a different route (one without a park to look forward...bad mommy guilt) puts her to sleep...heck I will jog it come rain, snow or scorching heat!!!
Thanks to everyone who made this challenge so fun! Have a great week!
This Challenge was brought to you by:
And a special thanks to sponsors

Kristen

& my dear mum,

Barbara

!!
Please support our sponsors!!!!!