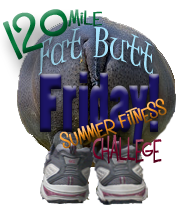 Well, my friends, the day has finally come for our first report! Woo Hoo!! I just want to start off and thank all my challengers for signing up and taking up my challenge. I am overwhelmed by the support and positive feedback I have received. I also want to thank our great sponsors for taking a chance on us, and donating time, money and services to our cause for a healthier lifestyle. So I ask for you to show your support for them in turn by clicking on their links every once in a while and checking out what great things they have to offer!
Everyone is pumped up this week for the big challenge... no one more than me I think. I have been driving my family crazy with all my planning and brain storming, email checking, and chart making. I think I lost 3 "Friends" this week on facebook with all my announcing and begging... opps... Even a follower or two on here... BOOOOO!
Anywho.... Big thanks to all 1/2 of my signed up challengers for reporting to me on time or this morning. It makes life so much easier for me :) The rest of you, I guess just forgot. But that's okay, no hard feelings, this is the first week of a new thing, and well, stuff happens. Just so you all know, we have had over 60 people take up the challenge! Woo Hoo! So I am hoping to hear from the rest of you this NEXT Thursday.

But don't you think the people who were on top of it should be rewarded?! I think so!!! And so does one of our super awesome sponsors!!! Met Jesi Dewey, she's a Personal & Corporate Image Consultant for Mary Kay and she wants to reward our challengers throughout the summer for their hard work. Yay! There is almost nothing cooler then getting a prize for working hard, right?!
Now...
I wish I could give prizes to everyone! But, unfortunately, I can not... But the next best thing I could think of was to randomly draw two names (via Random.org) and award them with... drum-roll please...
A Gift Certificate worth $25 to use at Jesi Dewey's Mary Kay site!! Men: Don't be disappointed, they have stuff for you too. (And if you are still disappointed, well, find me a manly sponsor with manly giveaway stuff.)
The winners are:
Shan B
and
Congrats, my friends!!! I'll pass your email on over to Jesi so she can hook you up with your prize!
The Moral of the Story: Report your miles on Thursday night!
Now, I just want to wish you all a great next week and keep up that walking and running! Next week, we will have other announcements, not necessarily prizes, but I have a few tricks up my sleeve to keep you all on your toes this summer! So stay tuned!
But before I sign off, here is a little message from one of our challengers I got in an email:
"I am glad it started on Tuesday! I decided to start walking my daughter to and from preschool...which is a 2 mile walk/jog/run each way...so totaling 4 miles on Tuesdays and Thursdays!! I just leave her jogging stroller at her school and then pick it up when I pick her up!!! I can't wait to be in enough shape to run the whole time! I also have been thinking about your Fat Butt Friday post last week...and I know what I have to overcome!! And that would be the slight hill all the way back to my house from my daughter's school!!! Yes...that is 2 miles of a gradual hill...and it is tough enough just to push the stroller right now...but my goal is to be able to jog it by the end of the month!!! And on another note, thank you for allowing the elliptical!!! The hubby got me one for Christmas (yes I asked for it lol!) and I used that Wednesday...although 2 miles on that seems SO much longer than just running to the end of the road and back...I just couldn't do yet
Nother killer day with the jogger!!! Have I mentioned I have not ran since last summer?!
Here's to another awesome week ahead!!! Can't wait to see the payoff of all this hard work!!!"
-Krystal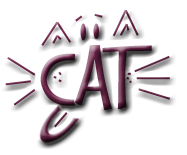 Check out our Challengers Stats for the first week of the 120 Mile Fitness Challenge!! Note: They start out in alphabetical order, but don't end that way, I had to add a few late reports this morning. Also, these aren't ALL my challengers, just the ones who have reported their miles so far.
(Note: Each bar is equal to 2 miles. Sorry for the confusion, but my chart wouldn't let me make space for 120)
I am still taking challengers up until tomorrow night, Saturday, at midnight. Thanks!
Oh! And if I forgot anyone that reported to me, or didn't link your blog, I am really sorry, just email me and I can fix it!
Future Fixes: I didn't notice there were two Abby's... one is Abby M and the other is Abby N. Also, sorry Dina I put you twice!
This Challenge was brought to you by: