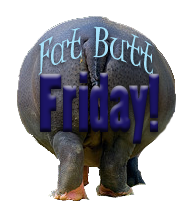 With everything going on last night, I was just too pooped to get this done. But I promised I would post some update weight loss pictures so here they are!!
Big News: Not only did I reach my 80 pound weight loss mark, I actually lost 2 more! So a big 82 pounds down!! AND I passed the 200s!!! No longer am I over 200!!! Woo Hoo!!!
Before:
Now at my 82 pound loss:
My pants now (11/12) vs my old ones (24):
I am now 3 sizes smaller than when I got married, and for the first time ever, I am smaller than my husband, who is 203. Life is great! I can't wait to show off my new self when he comes home after 9 months away in March!
Weekly Stats

Starting weight: 279 lbs
Weight last week: 200 lbs
Total loss up until then: 79 lbs
Weight Today: 197 lbs

Lost this week: 3 lbs
Total loss: 82 pounds
Goal weight: 179 (My hundred pound mark)
For those of you who are new to
Fat Butt Friday
click
here
! For those of you joining in, don't forget to leave us your link, so we can come over and cheer you on!!!