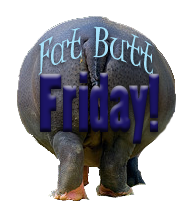 Just give me one more week to get off the few pounds I gained over the holidays... please... pretty please...!

But I will tell you that the morning Ben came home, I reached my 70 pound loss mark! Woo Hoo!!! Now, I just need to reach it again... :)
Also, I bet my mile run time:
Old Time: 12:53
New Time: 12:30
I want to run the mile in 10:30 before Ben comes home. That's my exercise goal for the next couple months.
So is anyone going to join me for the New Year?? Come on! I know most of you probably made some weight loss goals for this next year... I know this because the gym is so packed I can hardly find a free machine! Everyone is out there burning off calories, come join us!
For those of you who are new to

Fat Butt Friday

click here! For those of you joining in, don't forget to leave us your link, so we can come over and cheer you on!!!