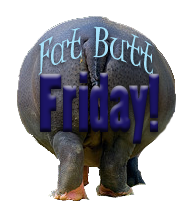 Even though today is a special day for me (see post below -- yes, I did two today!), I just couldn't leave my fans without a Fat Butt Friday update!! Right?!
Before I give you my stats for the week. I wanted to take a few minutes and give you some used and true last minute gift ideas for your neighbors and friends.
When most of us think neighbors and Christmas in the same sentence we think of long hours in the kitchen baking our yearly holiday treats. Bundling the kids up and dragging them all around down delivering... if we are lucky, we can convince the hubby it's his turn this year -- what guy can ever remember whether or not he did it last year??
A few years ago, this all changed for me.
I had slaved for hours over a hot stove to make Angel Flakes, English toffee, and other candies and treats. After bundling Sam up (he was only 3 months old at the time) we headed out to deliver. The first house we went to, my holiday cheer dissipated into thin air because when I proudly handed over my goods, my neighbor said thanks and dumped it on top of a huge pile of other baked goods. Most would probably go uneaten and end up in the trash. All my hard work for what? "It's the thought that counts??"
Well, that just isn't good enough for me.
So the next year, I decided to get a little more practical.
No more food gifts.
So I headed out to the dollar store and found some really cute Christmas hand towels. Took them home, rolled two together and tied them up pretty with raffia. Then I added a little tag that said:
"Merry Christmas 'Tow-el' and 'Tow-el' a good night!"
Needless to say, my neighbors were thilled! MY present didn't end up in the treat pile this time!
Here are a few other ideas you are more than willing to steal!! And maybe you will come up with an even better one we can steal from you!!!
1. This hand towel idea is also cute with
Christmas paper towels
too!
2. A two litter bottle of
Sprite
with a tag saying something like:
"Wishing you a 'Sprite-ly' Christmas and a 'Bubbly' New Year!"
3. A package of
hangers
(who couldn't use more of those?) with a tag saying something like:
"'Hang' in there for an awesome Christmas and Happy New Year!" You could probably think of something better...
4. A christmasy bag filled with a few
oranges
(I know it's food, but "good" food that won't make them feel guilty). "'Orange' you glad we're neighbors?! Happy Holidays!"
5. A
salt and pepper duo
(you know the picnic variety) : "'Seasons' Greetings!!" Hahahaha get it?
6. And this year I did
Extension Cords
with a card that said: "'Extending' our warmest wishes to you this holiday season. May your Christmas be 'Electrifying' and your New year roll in with 'Power'!!!!"
Trust me, not only will your neighbors and friends be thrilled at your practicality, but they will always remember this gift and marvel at your cleverness! AND the best part: you can't be blamed for adding to their thighs!!
Okay here are my weekly stats:
I actually lost some weight this week, even though I was TRYING to maintain... But, hey, I'm not complaining!
Starting weight: 279
Goal Loss: 80 pounds
Last week's Total lost: 64 pounds
This week's loss: 5 pounds -- down to 210 lbs
Total lost: 69 pounds
Five pounds!!!! Can you believe it!!!?? I can't!!! My body must really like Mint Truffle Hershey Kisses, because, baby oh baby, I had those this week!! Only one bag though... hahaha... Hey, maybe I have discovered some great new diet! If only...
For those of you who are new to

Fat Butt Friday

click here! For those of you joining in, don't forget to leave us your link, so we can come over and cheer you on!!!