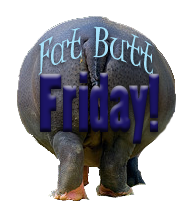 I think I am going crazy.
I did everything I was supposed to do to stop losing weight and start to maintain it. I admit that sometimes I felt I ate too much, and laid in bed at night worrying about what the scale will say in the morning.
So the good news. I didn't gain any weight this week! Woo Hoo! The weird news: I actually LOST more weight! Three pounds. It's true. Sam had to scoop me up off the bathroom floor after I passed out when I saw what the scale said.
All I can say is: YIPPY!
Eating well, losing weight, well on my way to fit my booty in size 16s!
Do you think Ben will recognize me when I go pick him up at the airport?
Weekly Stats:
Goal weight to lose by Dec 19th: 50 pounds or more.
Weight lost up to last week: 40 pounds.
Weight lost this week: 3 pounds.
Total lost: 43 big ones!
Maybe this week I will slow it down some more. Give my flabby arms a chance to catch up.
For those of you who are new to
Fat Butt Friday
click
here
! For those of you joining in, don't forget to leave us your link, so we can come over and cheer you on!!! You can grab a Fat Butt Friday Button on my left sidebar now!