Anyone have a good joke??
I sure could use a good laugh. I know, I am the one supposed to make you smile... but this has been a trying weekend, and I am having a really hard time getting over some blues.
I should be happy. I have plenty of things to be happy about. I have great friends, one of which totally stood up for me to a troll we met at a church function this weekend. I designed and made my first purse... it turned out pretty well. It's pink camo with lots of pockets.
I did have my great weight loss last week -- BONUS! AND everyone is noticing! Everyone woman loves a great compliment.
The blues mostly come with the weather change. I LOVE the fall!! It's my favorite time of the year. It means the holidays are coming, Halloween, Thanksgiving, Christmas, New Years... and I am Ben-less. I miss him so badly it hurts! I know he gets to come home for Christmas, but it doesn't make the blues stop.
I'll get over it. No worries.
Moving on:
Ok, here are a few things I wanted to mention.
1. Don't forget to check out my Homemade Halloween Costume Contest!!
Click here for the details
.
2. I just wanted to remind everyone about my
Cat Spills the Beans
blog. I am getting quite a little following without advertising, and most of the followers on there aren't follows of this site. Just to let you know a little about what you can find on there. Here is the list of the tutorials I have done so far... maybe you will see something you like.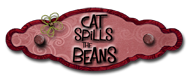 Blog Basics:
Starting a Blog
How to Comment
Design:
Add a Label Cloud
Add a Signature to you Blog Posts
Adjusting Margins and Padding
Add Background Color and Borders to Sidebars and Post Area
Add Borders Around your Words
Center Buttons and Pictures
Change your Font Size
Make a 3 Column Template
Make your own Background and Other Tips
Position your Background
Remove Borders Behind Headers
Remove Lines Between Sidebar Items and Posts
Text Decoration
Marquee (Scrolling) Blogroll
Navigation Buttons (simple)
Navigation Buttons (Fun & Creative)
FYI:


How to Capture Screen shots
How to get an Add a Gadget Bar by your Header
Upping your Traffic: Using the "Link Within"
How to take the .blogspot out of your address


Other Fun Stuff:
How to Make Your Own Blog Button
3. I am going to take questions and suggestions for posts. My readership has been down a little, I think everyone's has, and I was wondering if there is anything in particular you would like me to post about, or is there any questions for me you have? You can comment here, or email me.
I think that about covers all my odds and ends for today. Come back tomorrow, because I have a very clever post just waiting to be published.
Everyone have a super duper week!!!