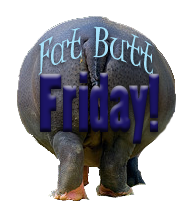 First I just want to apologize for not posting yesterday. I was REALLY tired and having a hard time functioning let alone think of something clever to post. That's why I LOVE Fat Butt Fridays, I don't have to think, just post about how my weight loss is going.
Sometimes I wonder if anyone cares... lol. But then again, The Biggest Loser is still a pretty popular show! And I'm not scamming you either, I really am losing weight, not just sitting around talking about it, dreaming, and eating Twinkies.
Today, I am going to be braver than ever before. I am going to post my fat picture. This is me 2 months after I had Nephi, at my top weight 279:
I look really ugly... lol. Mostly because I didn't do my hair or makeup. I wanted to look scary in my before pictures to make my after pictures look better :) You know how it is. Here is a picture of my face when Ben left for Basic 2 months ago.
Then, this week, I was messing around with my camera taking pictures of myself to text to Ben. I was hoping I looked hot... but I was shocked when I saw them! I hardly recognized myself!!! Here they are:
This one above I am in my swimsuit, but Ben thought I was naked hehehe... sending him a super sexy.... hehehe. I didn't even think about it until he said something, then I laughed myself off my seat. I told him to dream on! LOL.
Okay, here are my stats for the week:
Goal weight loss: 50 pounds or more
Pounds lost this week: 6
Total lost: 29 pounds!!!! Woo Hoo!!!
This week I will be crossing the 30 pound threshold! I never thought I would be able to do this!!
Wish me luck!!!
For those of you who are new to
Fat Butt Friday
click
here
! For those of you joining in, don't forget to leave us your link, so we can come over and cheer you on!!!