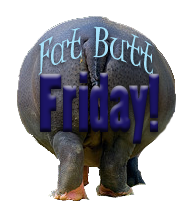 Last week, I started to feel the plateauing coming on. So I decided to change my meal plans a little. I cut out my low-cal salad dressings and stuff with Red Wine Vinegar, made my meat portions a little smaller, but added more green veggies to each meal. I also added more fruit as well.
All week, I was feeling fantastic!! I could really feel I was losing weight! Yay! Maybe I would reach my 20 pound goal by the end of the month after all!
So this morning, after I woke up, I got on the scale.
I stared.
Was I seeing things? How could this be?
I got off the scale and scooted it to a different location in my bathroom and tried again. Same number.
I rubbed my eyes. I did accidentally sleep in my contacts last night... I could be seeing things.
Nope. The scale was right. I'm a little embarrassed to share these stats with you today. I am afraid you are going to think bad thoughts about me.
But I committed to Fat Butt Friday, so here they are:
Goal loss: 50 pounds
(even though I need to lose more than that to get to an ideal weight -- 50 seemed reasonable for the time Ben was gone)
Pounds lost this week: 8
(I know, it's a lot, but I swear I was just a good eater!)
Total pounds lost: 23
Almost half way there!!! Yay! Not only did I meet my goal this month, but I also got a little bonus! I want you to know, though, that I worked out a lot this week and ate really well. There was no throwing up involved, and I didn't go hungry! I guess my body just really liked what I was eating. I still have a ways to go, so we'll see what happens. With my body,
anything
can happen.
Did anyone else have a good week??