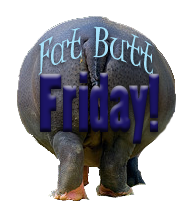 So the other day I am going through my drawers to find a pair of clean jeans to wear. I had been working hard this week to eat well and work out when I was supposed to and all that good stuff that comes with losing weight.
Anyway, I find my jeans and start to put them on... oh, crud! They are a little tight! What the...? But I worked SO HARD this week! How could my size 22's be tight!? I must have gained weight. Do I dare go weigh and see? No, way! What if I gained like five pounds! I would seriously throw my body on the floor and pitch a fit that would give Sam nightmares! Instead I tried to sit down and cry. How could my pants be so snug... at least I got the zipper up though... right?
So I took them off, shoulders slumped in defeat. Then it happened. Wait a second. Those aren't my jeans... what? Oh. My. Goodness! Those were my size 20's!! Oh, yeah, do a little dance! My size 20's fit, even though a little snug. Like I said before, the zipper made it up! I put them back on, did a few squats... you know, stretch them out a little... oh yeah, I think I can wear them. So what if they make me look a like a muffin top. I got the zipper up, I am entitled to get to wear tight pants today!
Ok, here are my weekly stats:
Goal weight to lose:
50 pounds
Weight lost up to last week:
9 pounds
Weight lost this week:
1 pound
Total weight lost:
10 pounds
1 Pound is still good. I upped my weight lifting program, so my butt tells me I gained some new muscle.

I hope you had a great week!!

Note: For those of you who are new to
Fat Butt Friday
click
here
! For those of you joining in, don't forget to leave us your link, so we can come over and cheer you on!!!