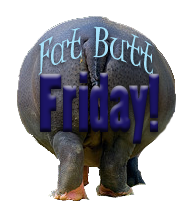 Life just isn't fair for us out there that have a sucky thyroid! I have run out of my meds last week, and in protest, my body has refused to lose weight! I was great this week, too! Did all my work outs and ate the right stuff... dang Thyroid! You really mess me up!
Anyway, I have been calling and calling the doctor for a refill and no answer. Just a bunch of "I NEED my Synthroid NOW!" messages on their machine. Oh, well. Hopefully next week I will be up and rolling and shaking my stuff.
Stats this week: I lost nothing! But on the bright side, I didn't gain either!
Note: For those of you who are new to
Fat Butt Friday
click
here
! For those of you joining in, don't forget to leave us your link, so we can come over and cheer you on!!!
*******
I also have a quick announcement. I have been getting so many emails asking me how I do certain blog design things, or how do I do my feeds and get traffic and stuff like that, that I decided to start another little blog for my readers of "4 Nuts in a Nutshell" where I will post some tips and tutorials for people like me that have no clue what we are doing and learning along the way.
It's called:
Cat Spills the Beans
I am not planning to promote my new blog, it is mainly for all of you. So I would love to have you check it out and tell me:
1. what do you think
2. whether or not you have an idea for a great tutorial or something you want to know.
or
3. If you might be interesting in helping me out with it. Doing guest posts or whatever.
I'm not the brightest crayon in the box when it comes to web design, so I would love to hear your tips and what you would like to see on the sight.
Also, I will be posting my blinkies and buttons on there to share instead of here.
Thanks everyone!!