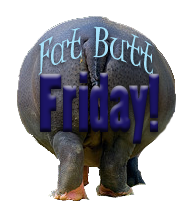 The other day, I was feeling a bit down. I mean I have been losing some weight, but could anyone really tell? I know, I know, I need to have patience... lots of patience... and don't give up! Keep going! I. Have. To. Look. Great. When. Ben. Comes. Home!
So I took a close up picture of myself, to see if I could see a difference in my face -- where I always lose it first. What do you think?
FIVE DAYS ago:
I can see a difference!!!! Can you? Or is it just me....?
It's all because of
Jennie
! Thank you, my friend!
Okay, here are my weekly stats:
Goal:
to lose at least
50 pounds
(more would be better, but I only have 8 months to do it)
Pounds lost so far last week: 7
Pounds lost this week:
2
Total lost: 9


Only 2 pounds this week... but that's okay, I can't lose too fast or I'll look saggy :)
For those of you who are new to
Fat Butt Friday
click
here
! For those of you joining in, don't forget to leave us your link, so we can come over and cheer you on!!!