The Digital Queen: Pam
Okay, if you are into digital scrapbooking, you have got to check out Pam's stuff. She is a very talented artist, mom of 2, wife of a college student, and a great friend! So stop by and check out what she's got!
A Budding Author: Haley
Halley wrote an amazing account of her personal struggle with anorexia. I seriously cried through the last half, and cheered her on in the end! The book is entitled: A Future for Tomorrow, and Halley has a great blog were she talks a lot about how we can feel better about ourselves and more confident. Check it out: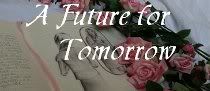 Future Mom Networker: Angie
This mom was one of my very first followers on this blog, and now it is my turn to show some support for her new AWESOME blog for mom's: The Mum Junkie. A great resource for mom bloggers.

And last, but certainly not least:
My Brilliant Cousin, Teresa:
Tess (as I always called her) is by far one of the wittiest people I know. She can pull one-liners out of the air that will have you in stitches. Recently, Tess has started writing her own column for The LA Examiner on Frugal Living tips. She also blogs about random funny stuff. Here are her links, well worth the effort to stop on by and see what she's up to.
Enjoy!